2005 - Campaign Spring

In March/April 2005, the BAI conducted its third excavation campaign. The emphasis was on extending the excavations in the north-west of the tall (Area I). The aim was to reach the uppermost stratum of the Late Bronze Age in as many squares as possible. 20 volunteers and a group of Jordanian workers opened a new area of 150 square metres, while fieldwork continued on a total area of 675 square metres. The 18-strong BAI team consisted of archaeologists, theologians, scientists of various disciplines, an architect and a surveyor.
Work continued in the four strata discovered in 2003 and 2004 that date to the Roman-Byzantine period (area 1), The Iron Age (2: 10th-8th cent.; 3: 12th-11th cent.) and the Late Bronze Age (4).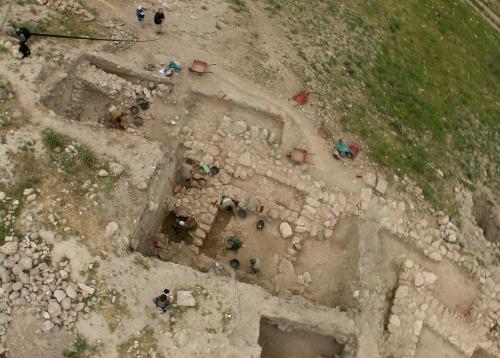 Strata deeper than four meters were not excavated (we believe the tall contains 8-9 m of cultural layers). An Early Bronze Age stratum on a slope, already discovered in 2004, contained a 2.5 m thick/high city wall which was excavated by a step-by-step section.
In the Late Bronze Age stratum, a city gate was uncovered with a stone paved floor inside and a roof supported by two wooden columns placed on carefully worked stone pillars.

In 2005, we were also able to clarify the buildings of the Iron Age II city, which was protected by a zigzag wall, and the impressive Early Iron Age settlement (in which remains of the Late Bronze Age city had been reused).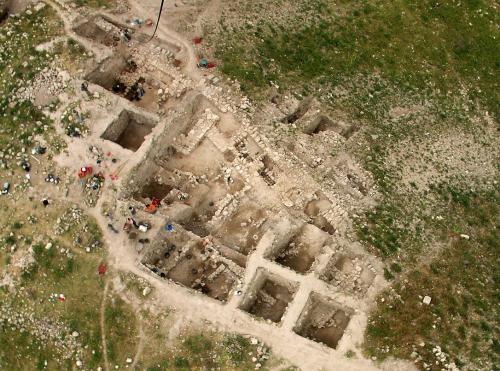 Very precious and remarkable objects of metal, precious metal, ivory, bone and clay are now awaiting restoration and will be put on display, as befits them, in the new National Museum in Amman.
We would like to express our sincere gratitude to all our sponsors and supporters, especially the BAI Freundeskreis. We are also indebted to the Hugo Gressmann Stiftung in Hannover, for its generous support of our young scholars.
Last updated: 2005
CURRENT NOTE (2017)
The results of the excavation campaigns from 2003 to 2011
are represented in detail in the final publication.
Project Partners
Biblical Archaeological Institute Wuppertal (BAI)
German Protestant Institute of Archaeology (GPIA)
Patronage
His Royal Highness Prince El Hassan bin Talal took up the patronage of this project as a representative of the royal house.
Friends and Donors
Dr. Jackstädt-Stiftung, Wuppertal
Förderverein DEI
Universität Wuppertal
Cooperations
We cooperate closely with many universities, institutes and companies.