2006 - Campaign Spring

In March and April 2006, the institutes in Amman and Jerusalem, in cooperation with the BAI, conducted their fourth excavation campaign on Tall Zira'a. While fieldwork continued in the already opened Area I, a new section was opened in the tallís northwest (Area II). In total, the fieldwork extended over an area of 850m²: 725m² in Area I and 125m² in Area II.

It is now clear that Tall Zira'a is one of the most important settlement hills in Palestine. It reflects more than 5000 years of settlement history contained in a settlement layer measuring more 10 meters from the surface to the bedrock. To date, our excavation has reached a depth of 3.9-4m in Area I, which is the Late Bronze Age level. Our long-term archaeological project will need to continue for more than ten years in order to produce representative results.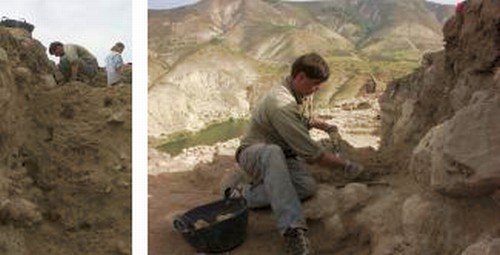 The fourth campaign lasted five weeks. In the first three weeks, 35, and in the last two weeks, 65 participants, including archaeologists, surveyors, architects, theologians and volunteers, took part in the campaign. They all contributed to the huge scientific success of the excavation.
In this campaign, Early and Late Bronze Age strata were uncovered in Area I. Of special interest is a newly excavated temple in Area I. The head of an individual made of basalt, which, by way of secondary use, had been placed in a wall, may be connected with the temple. The figure represents a high-ranking individual or aristocrat. In addition, two cylinder seals and a scarab were found as well as two fragments of female figurines. These finds will be examined in detail in the near future.
Area II produced objects mainly from the Roman-Byzantine and Islamic periods: pottery, glass, coins, beads and bones, which will be restored in due course.
We would like to express our sincere gratitude to all our sponsors and supporters, especially the BAI Freundeskreis. We are also indebted to the Hugo Gressmann Stiftung in Hannover, for its generous support of our young scholars.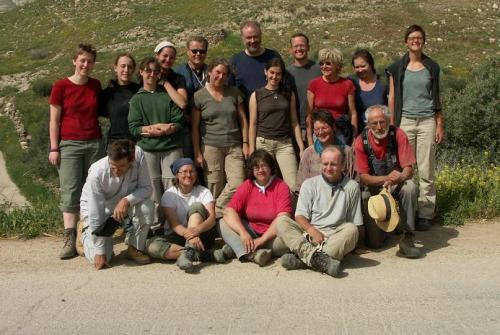 Last updated: 2006
CURRENT NOTE (2017)
The results of the excavation campaigns from 2003 to 2011
are represented in detail in the final publication.
Project Partners
Biblical Archaeological Institute Wuppertal (BAI)
German Protestant Institute of Archaeology (GPIA)
Patronage
His Royal Highness Prince El Hassan bin Talal took up the patronage of this project as a representative of the royal house.
Friends and Donors
Gerda Henkel-Stiftung, Wuppertal
Förderverein DEI
Stadtsparkasse Wuppertal
Cooperations
We cooperate closely with many universities, institutes and companies.