The first excavation campaign in 2003
In August and September 2003, the BAI conducted its second campaign of archaeological investigations on Tall Zira'a. While in 2001 the emphasis had been on the survey and specific exploration tasks, these were now extended to the Wadi el-'Arab. In particular, new techniques were developed for the exploration of antiquities by taking aerial photographs with a camera fixed to a Helium-filled balloon and by using the global positioning system (GPS) to enable the production of a three-dimensional map of tall and its surroundings.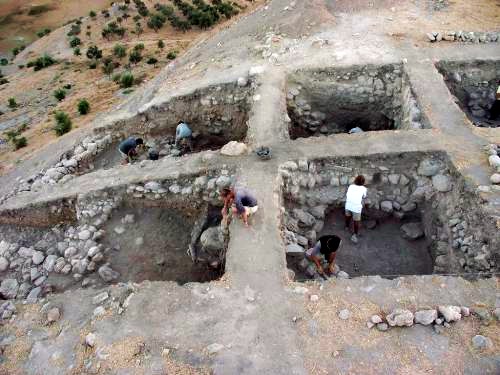 Excavation work focused on the northwest of the tall, where 200 m² (eight squares of 5x5 m) were opened and dug to a depth of three meters. Four strata were excavated (1 = Roman-Byzantine period; 2 = Iron Age II; 3 = Early Iron Age; 4 = Late Bronze Age), which produced mainly residential buildings. The right-angled houses of the Roman-Byzantine period on the slopes have eroded. Solidly built, right-angled rooms date to the Iron Age II, while few and poorly preserved remains date to the Early Iron Age. This suggests that in the Early Iron Age the ruins of the Late Bronze Age may have been reused. In the Late Bronze Age stratum, a casemate wall with two adjoining paved rooms were uncovered, along with a covered canal in one section of a street. According to our geophysical findings, a further 2.5-3 m of cultural layers can expected beneath the strata excavated thus far.
For results of our work, see the journals ZDPV, ADAJ, O&O and Welt der Bibel.
The 20-strong team comprised archaeologists, theologians, geophysicists, chemists, a surveyor, a geologist and volunteers. A group of local Jordanian workers also took part in the fieldwork.
We would like to express our sincere gratitude to all our sponsors and supporters, among them the BAI Freundeskreis, Schuhhaus Klauser Wuppertal, Stadtsparkasse Wuppertal as well as Firma Vorwerk & Co. KG in Wuppertal. We are also indebted to the Hugo Gressmann Stiftung in Hannover for its generous support of our young scholars.
The 2003 campaign also served to carry out an archaeological experiment involving ethnological and technological-historical aspects. Under the supervision of the last surviving Tabuniye living in Umm Qais, her son built a traditional taboon (oven for baking bread). See the report on our web pages. A separate publication on this experiment is planned.
Last updated: 2003
CURRENT NOTE (2017)
The results of the excavation campaigns from 2003 to 2011
are represented in detail in the final publication.
Project Partners
Biblical Archaeological Institute Wuppertal (BAI)
German Protestant Institute of Archaeology (GPIA)
Patronage
His Royal Highness Prince El Hassan bin Talal took up the patronage of this project as a representative of the royal house.
Friends and Donors
Freundeskreis des BAI Wuppertal
Kirchliche Hochschule Wuppertal
Deutsches Archäologisches Institut
Cooperations
We cooperate closely with many universities, institutes and companies.