Participants - Spring Campaign 2004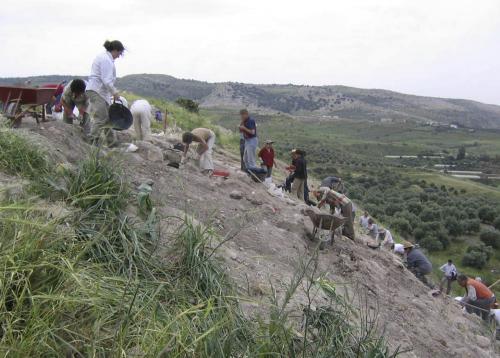 Tall Zira'a, Area Iat the beginning of spring campaign 2004

Team in Gadara/Umm Qais

Dr. Wolfgang Bruns (ceramics), Andrea Gropp (square leader), Markus Heynek (square leader), Dr. Jutta Häser (excavation leader, GPIA), Jens Kleb (photogrammetry, surveying), Dagmar Jagsch (fing registration), Hans Jagsch (photography, surveying),Lina Unterbörsch (square leader),Prof. Dieter Vieweger (excavation leader, BAI).
Volunteerparty - by Evang. Akademie Bad Boll - April 4 to 16, 2004
Dr. Konrad Ammon, Swantje Bartschat, Jens Bieler, Heidi Bigelmayr, Klaus Bocklitz, Antje Cassel, Hubert Deininger, Susanne Deininger, Bruno Fischer, Gertrud Fitzner, Dr. Thilo Fitzner (Ev. Akademie Bad Boll), Eleonore Güntzel, Gabriele Haag, Klaus-Peter Haala, Rudolf Hartmann, Heike Herdrich, Christian Hirth, Karl Plazidus Hungerbühler, Dorothee Komor, Hans-Jürgen Kröpsch, Dr. Karin Kühnel, Anke Laderick, Klaus-Uve Leyhausen, Susanne Lichtenberger, Suse Liebegott, Wolfgang Luckscheiter, Klara Meyer, Barbara Neusüß, Kordula Pfeifer, Johanna Rau, Albert Rau, Hannelore Schmidt, Regina Schreiber, Dr. Johann Schulz-Baldes, Renate Schweitzer, Andrea Schwermer, Maik Strehl, Gudrun Strobel, Anne Wigger-Löffler, Helmut Wurm, Marita Wurm.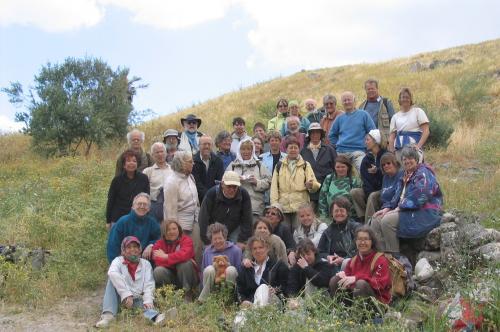 Volunteer party 2004
Project Partners
Biblical Archaeological Institute Wuppertal (BAI)
German Protestant Institute of Archaeology (GPIA)
Patronage
His Royal Highness Prince El Hassan bin Talal took up the patronage of this project as a representative of the royal house.
Friends and Donors
Dr. Jackstädt-Stiftung, Wuppertal
Kulturhilfe des Auswärtigen Amtes der BR Deutschland
Kirchliche Hochschule Wuppertal
Cooperations
We cooperate closely with many universities, institutes and companies.