Participants - Spring Campaign 2009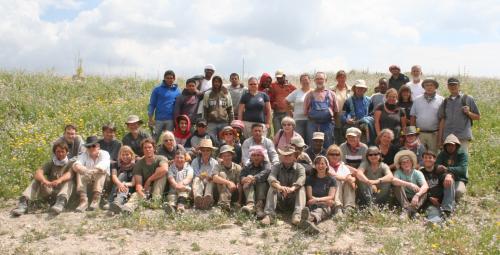 Team in Gadara/Umm Qais -from March 2 toApril 16,2009
Dr. Wolfgang Auge (archeometry), Felix Bartenstein (square leader), Antje Cassel [3 weeks], Torben Floerkemeier (find storage), Eva and Dietrich Fricke [1 w.], Erika Gitt, Yvonne Gönster (Ssquare leader), Andrea Gropp (square leader), Dr. Jutta Häser (excavation leader), Hans Martin Jakubik [3 w.], Irmtraut Kaul [3 w.], Frauke Kenkel (ceramics), Anke Laderick, Patrick Leiverkus (photogrammetry/surveying), Marianne Lehmann (square leader), Barbara Neusüß [4 w.], Sebastian Olschok (square leader), Alina Quentmeier, Anette Schomberg (square leader), Regina Schreiber [4 w.], Benjamin Schröder (square leader), Christiane Schultheis [3 w.], Andrea Schwermer (ceramics), Claudia Tapia Siebenhaar [3 w.], Katja Soennecken (square leader), Heribert Steinmetz [2 w.], Anja Straßburger [2 w.], Maik Strehl [3 w.], Prof. Dieter Vieweger (excavation leader), Marianne Voigt-Werling (architect) [3 w.], Anne Wigger-Löffler [3 w.].
Volunteer party-by Thomas-Morus-Akademie, Bensberg - from March 29 to April 9
Thomas Hettlage, Ludger Kluß, Elvira Langendörfer, Veronika Schipainski, Rosemarie Surmann, Jochen Temsch, Hans-Ulrich Uehlecke, Jana Uehlecke, Ekkehard Unkrig, Johannes Soika (Reiseleitung), Joachim Voss, Teresia Wieck, Irmgard Zürrer.
and 20 jordan workers
Project Partners
Biblical Archaeological Institute Wuppertal (BAI)
German Protestant Institute of Archaeology (GPIA)
Patronage
His Royal Highness Prince El Hassan bin Talal took up the patronage of this project as a representative of the royal house.
Friends and Donors
Freundeskreis des BAI Wuppertal
Dr. Jackstädt-Stiftung, Wuppertal
Förderverein DEI
Cooperations
We cooperate closely with many universities, institutes and companies.