Aims of our archaeological research in the lower Wadi el'Arab
1. The main aim of the project is to explore the landscape of the Wadi al-'Arab in its entirety, whereby the links between the Tall Zira'a and its surrounding area plays a key role. An important question to be addressed is how, the inhabitants adapted their survival strategies to the natural conditions of the wadi in the course of the millennia, and how they reacted to changes in the supply of resources. An investigation of the agricultural development, the flora, fauna, geology (water, rock formations, soil types), trade (infrastructure) and strategic importance of the wadi will help us to better understand the historical development of the tall.
2. Tall Zira'a and the neighboring settlements, Khirbet Bond (2128.2233) and Tall Kinise (Ra'an) (2191.2271), were more or less consistently occupied over a long period of time, which is born out in the archaeological record by settlement traces from the Early Bronze Age to the Ottoman period. As a result we can expect to gain important insights into the long-term development of the settlement in a relatively confined geographical area.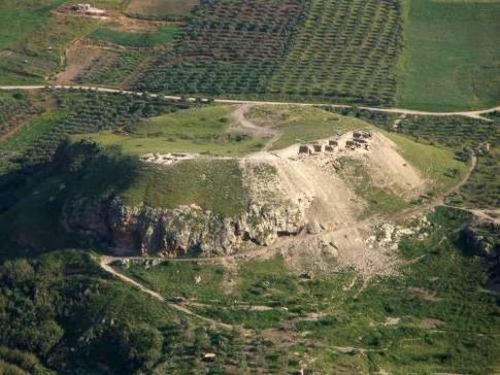 Tall Zira'a in Spring 2008
3. The artesian spring on Tall Zira'a as well as the extremely fertile soils and abundant water resources in its hinterland make this a privileged settlement site in northern Palestine. Consequently, a continuous stratigraphy can be expected from the excavations on the tall which can hopefully later serve as a reference for the stratigraphy of the nearby ancient polis of Gadara, especially for the periods pre- and postdating its existence.
4. The trade route which follows the Wadi al-'Arab, connecting the Jordan Valley (e.g. Beth Shean) in the west with the Irbid Ramtha Valley (e.g. Ramoth in Gilead) in the east, was undoubtedly a key factor in the wadi's geopolitical significance and the development of the region.
5. Although Iron Age pottery and evidence of residential buildings from the Islamic period have been found in strata at Gadara, the initial investigation rightly focused on the site's "classical periods" (Department of Antiquities, HOFFMANN, KERNER, WAGNER-LUX/VRIEZEN, WEBER et al). The era before and after Gadara's prime will no doubt require further research. The region south of Gadara offers a unique opportunity to examine, in a systematic and comprehensive way, the settlement development in a naturally confined area, that is, in relation to Gadara, and to explore more closely the pre- and post-classical periods of the Gadara / Umm Qais region.
6. The links between the urban center of Gadara and the surrounding region will also provide new insights into the urban history of the city. The integrated investigation of urban centers (Tall Zira'a; Gadara) and their respective environments addresses regionally-oriented questions and studies the interplay of different factors within a region to create what will effectively be an archaeology of a landscape.