Processing campaign in June 2013
In the years 2012 to 2015 the excavation and survey campaigns are to be evaluated and published.The excavations on the Tall Zira'a started in 2003 and were generally carried out twice a year until 2011.The Tall Survey took place in 2001, the environmental survey at Wadi el-'Arab in the years 2009 to 2012.

Processing campaign

As in the previous year, 2013 saw again a processing campaign and no excavation on the Tall Zira'a. For this, the team of 13 with Prof. Dr. Dieter Vieweger and Dr. Jutta Häser met for four weeks in June in the excacvation house in Umm Qēs / Gadara.

Apart from the two project leaders, Tim Aukes, Götz Bongartz, Antje Cassel, Anke Laderick, Dominik Prüßner, Knut Rassmann, Susan Schütz, Katja Soennecken and Heribert Steinmetz took part in the campaign.

This year, the focus was on various topics:

the processing of the 2001 Survey Ceramics
the description, drawing and photography of the small finds
the evaluation of the findings of the pre-classical strata (bronze and iron age)
and above all the planning of the publication: standards and guidelines for the individual volumes as well as for the overall publication of the "Gadara Region Project" were defined.
Guests
During the processing campaign, the team received support from Dr. Knut Rassmann from the Roman-Germanic Commission of the German Archaeological Institute in Frankfurt, who prepared a geophysical prospection on the Tall Zira'a as well as on some sites of the Wādī al-'Arab selected during the Surveys.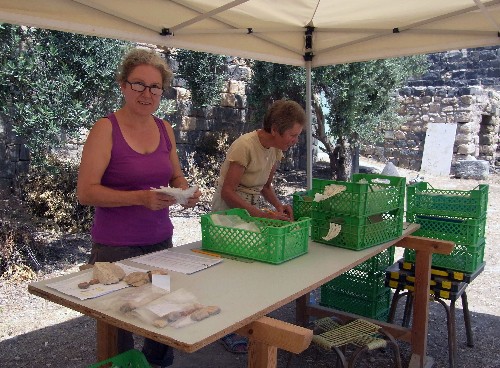 The volunteers Anke Laderick (left) and Antje Cassel (right) sorting the stone finds.

Status of information: 2013
CURRENT NOTE (2017)
The results of the all campaigns from 2001 to 2011
are represented in detail in the final publication.